Asia's Innovative Technology Showcase for Building, Electrical Engineering and Security Industries
On November 12, 2020, 16 colleagues joined the guided tour of the Biennial Asia's Innovative Technology Showcase for Building, Electrical Engineering and Security Industries (Build4Asia), which was under the arrangement of the Hong Kong Registered Contractors Association. Build4Asia is Hong Kong's leading construction, electrical engineering and fire protection exhibition. A series of brand-new products, technologies and services for the construction industry, including building materials, building automation systems, smart homes, safety inspection systems, etc., provide the industry with a high-quality one-stop procurement platform for us to search for suitable products and explore business opportunities. At the exhibition , we saw the latest products and systems in the industry, including automatic door control systems, high-speed security doors, 3D Scanner Robot, Mitsubishi air-conditioning and ventilation systems, cold-cut series of power tools, outdoor bamboo flooring, green walls, and many newest environmental protection materials, etc.
In order to achieve sustainable development*, the use of environmentally friendly materials in the construction industry will become a new trend. There were a variety of environmentally friendly products in the venue, three of them attached us most.
First of all, we were attracted by the series of environmentally-friendly municipal products which use phenolic resin as the matrix, continuously reinforced by long glass fiber, with resistance to pressure, fire, moisture, corrosion, explosion-proof, and its bearing capacity is consistent with pig iron.
The Environmental protection wood and environmental protection wood fences with environmental protection certificates are made of recycled materials (wood powder and plastic). The material does not require anti- corrosion treatment nor daily maintenance. It has a longer service life than wood and is not afraid of moisture, rot, and it is also insect-proof. There will be no cracking, no deformation and does not affected by cold or hot environment. 95% of the raw materials of polyolefin wood-plastic materials are recycled materials, so the cost is low, and the products can be 100% recycled, which is extremely helpful to environmental protection.
Makita non-spark cutting cordless portable band saw
Non-spark cutting is safe because it can prevent accidents caused by sparks falling during cutting. In addition, you can also adjust the baffle to adjust the depth of the cut according to the shape of different objects.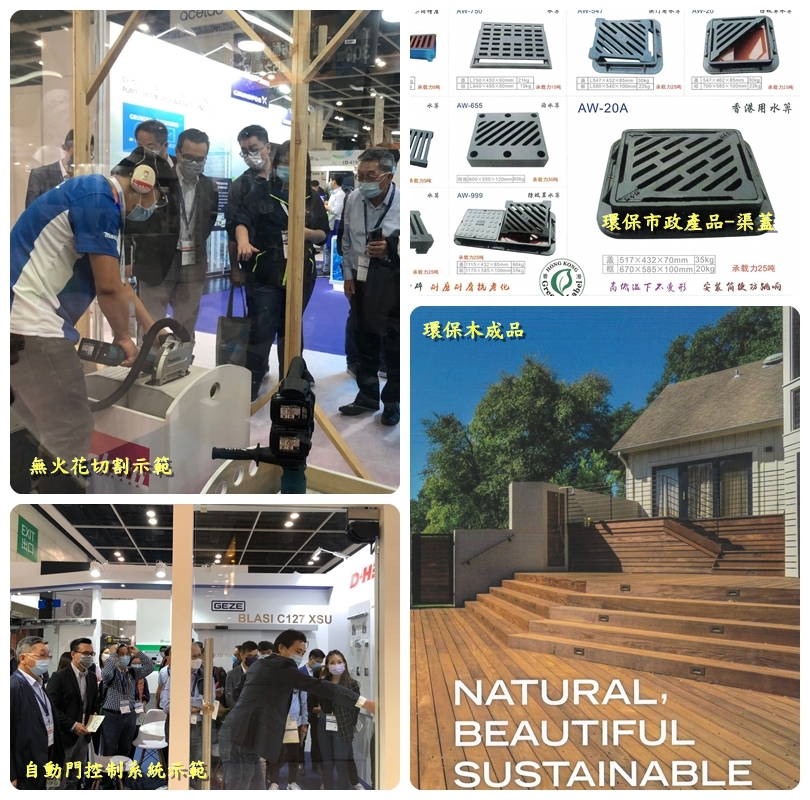 Besides environmentally friendly products, there were also other new products, technologies and services in the construction industry. Take for example,
Combined waterproof gate and windproof bracket
The product is made of aluminum alloy, with recessed plastic seals on both sides, and contains four stiffeners to resist water pressure. Moreover there are an interlocking and fast tightening structure and a design with waterproof rubber strips. It can be installed on all kinds of walls and is widely used in various sizes of projects.
Biozone Air Purification Products
BIOZONE's patented optical plasma technology can actively capture various air pollutants and quickly destroy their structure through a series of reactions, decomposing the pollutants into harmless substances such as water and carbon dioxide. The product can resist H5N1, effectively eliminate airborne particles and microorganisms. It also can decompose volatile organic compounds and other organic compounds and remove dangerous chemical gases and reduce unpleasant odors. It is now been used in vehicles, small garbage dumps, toilets, shopping malls and fitness center and so on.
Pop-up socket (desktop power supply)
This range is designed for desk holes with standard sizes of 60mm and 80mm. It comes with a power outlet, a wireless charger and a USB charger with standard and latest fast charging technology. The product carries high impact polycarbonate with flame retardant certification. The charger meets all safety standards and is easy to install. It is suitable for offices, coffee shops, hotels and home offices. The product has a unique design with hidden retractable function, and meets the requirements of CE, BS, RED, RoHS and ErP.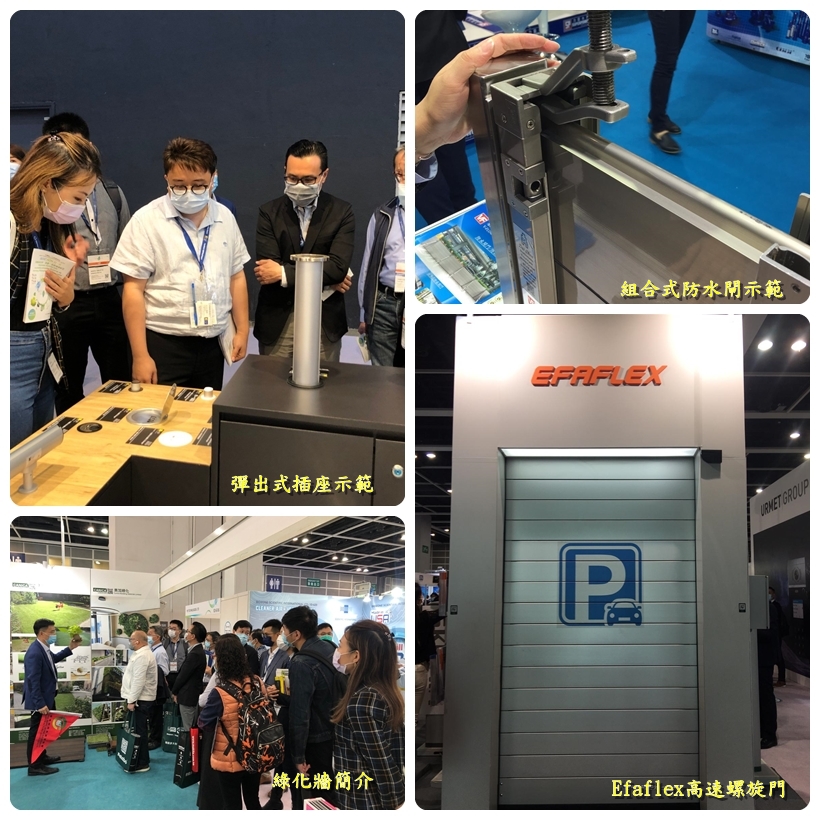 Efaflex high-speed spiral door
EFAFLEX is a unique spiral door leaf guide. This design has a maximum opening speed of 4m/s, which is durable and effective. The door leaf is not wound on a shaft, but is kept apart by a spiral guide rail to save space. EFAFLEX invented this functional principle and continues to develop it to provide users with unique advantages. In addition, automatic doors, biometric control and security doors, etc. were also displayed at the exhibition, which helped to enrich the company's understanding of related projects.
"Scan" Code Technology
Use barcode printers and scanners with software (such as asset management) to monitor and manage assets.
Electronic Site Inspection System (E-RISC)
Innovative Associate Technology Ltd provides solutions around DIGITAL WORKS SUPERVISION SYSTEM (DWSS), which helps the construction process and field data collection to be easily digitized, standardized and automated, and meets the five requirements of DWSS:
1. Inspection and Measurement Application Form / 2. Site Diary (Daily Engineering Log) / 3. Site safety inspection records / 4. Daily site inspection, safety investigation, photo diary / 5. Site cleaning checklist
3D scanner and printer
Through optical technology, the 3D scanner can obtain the 3D data of the physical object, and cooperate with the 3D printer to print the required finished products with different materials. This technology is very helpful for shortening part of the work process, especially in product design and research. 3D scanners can be used with 3D printers to quickly copy parts and greatly reduce the time required for modeling. In addition to assisting in 3D modeling, 3D scanners are also suitable for a variety of applications, such as product repair and measurement. Because 3D scanners help shorten product design and development processes, they have been adopted by many industries. The desktop 3D scanner mainly scans some smaller objects, while the handheld 3D scanner allows users to move the 3D Scanner flexibly to scan larger objects.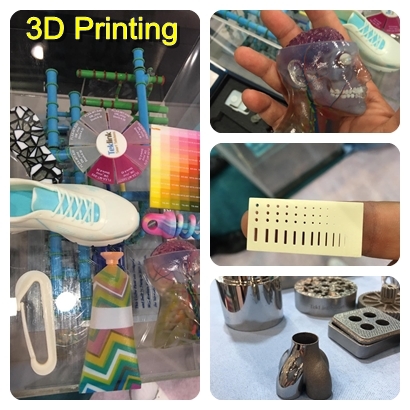 Characteristics of various printing materials:

High resolution plastic

Has excellent clarity and surface smoothness

The strength is 50% higher than traditional ABS plastic, and it can withstand greater impact. It is very suitable for application in functional test models and display HD effects

Nylon plastic

Very light, waterproof, not easily broken

High heat resistance, high intrinsic elasticity and certain light transmittance Widely used in printing lights, slingshots and stretchable functional parts

Transparent plastic

Hard in nature, high waterproof

After printing, there will be excellent clarity and smoothness after post-processing Suitable for printing works that require a good surface and a transparent appearance

High resolution red wax

Has excellent clarity and surface smoothness, hard and slightly brittle

The printing layer thickness can reach 0.016mm, and the printing detail is extremely high Printed jewelry and high-detail works are most suitable

Wax version green wax

The surface is glossy, soft, with nano-level wax content and extremely high fineness

With excellent drying performance, it is very suitable as a wax plate for lost wax casting Widely used in the

jewelry

industry

Gypsum powder

Mixed with fine-grained gypsum powder

Hard in nature but fragile, not waterproof, rough surface

Suitable for fast printing, non-functional and non-thermal testing finished products

ABS resin plastic

Hard in nature, slightly sandy surface, high heat resistance

After printing, post-processing can be carried out to improve surface smoothness Suitable for displaying design ideas and making multiple models for design evaluation

PC polycarbonate

With high tension and heat resistance, it can resist impact

Colorless and transparent, processing flexibility is high

Suitable for display models such as water bottles, lenses, mobile phone cases, etc.
The above is the sharing of all attending colleagues. It is expected that the relevant products and systems can be appropriately applied to the company's relevant engineering projects soon, bringing you a multiplier effect and enjoying the fruits of innovative technology.
Finally, we would like to thank Mr. Danny Chan, Chairman of the Innovation and Technology Committee (also an executive director of the company) for his careful arrangement of the guided tour, implementing the purpose of the "Innovation and Technology Committee" and actively contributing to the development of Hong Kong's science and technology innovation.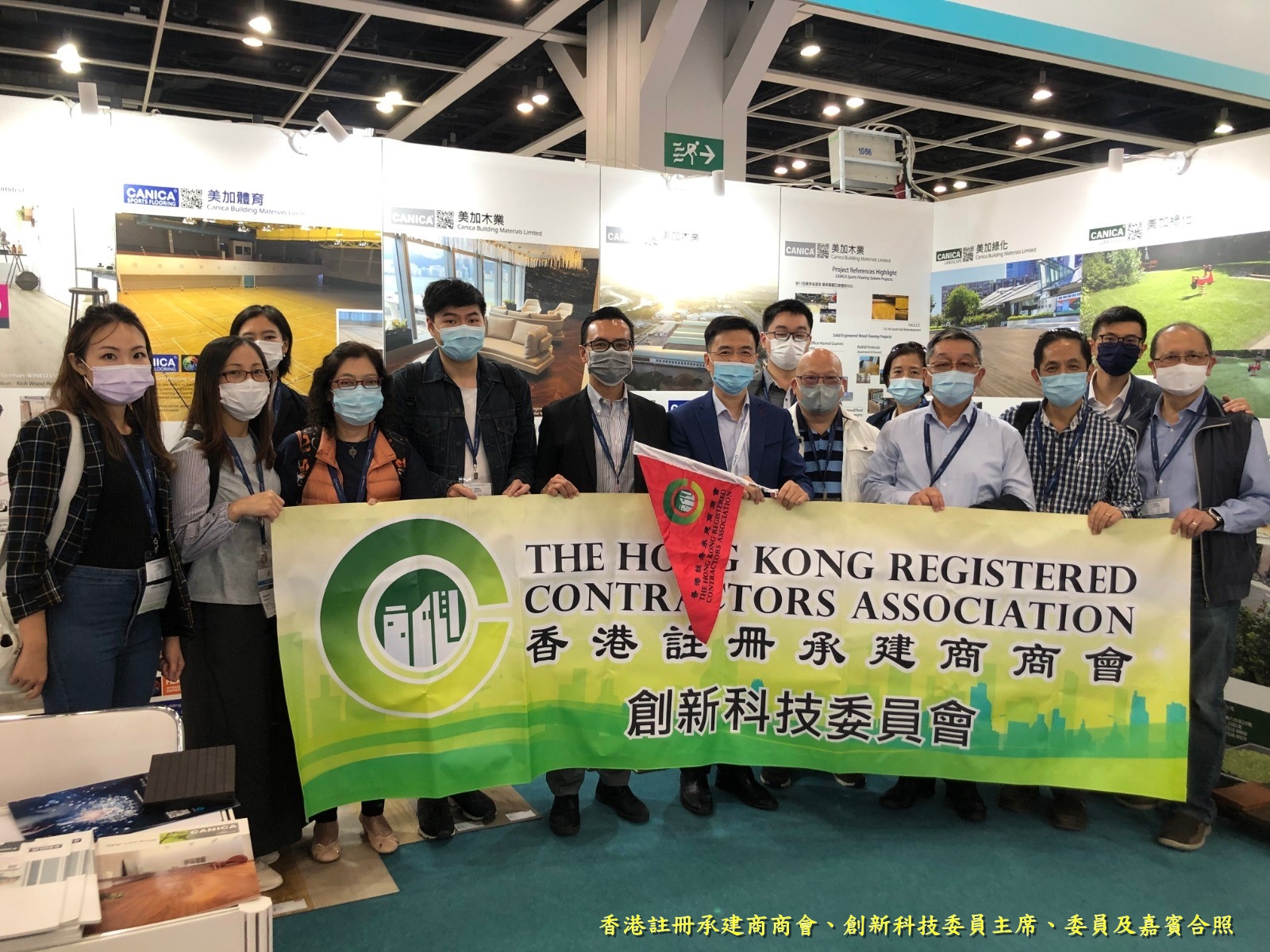 Remarks:
*Sustainable development refers to "meeting our current needs without compromising the development model that future generations can meet their needs."
Special thanks to the departments: POD, EGD, PMD, ADD, CPD and SED for providing information.